So what more can we offer you besides winning the costume contest and entry into the BIG THREE PRIZES? (See post below)
Well Shiny Swag is our answer. If ever you needed a reason to come to the CSTS event in Memphis - here it is!
The following is a list of global sponsor prizes which can be won at each event: (this means anyone who gets a door prize ticket to be used for the individual door prize auctions and/or winners of the silent auction prizes **) We will be determining which prizes will be door prizes and which will be silent auction prizes in the next week.
Each participating city will recieve one of each of the following items:

Done The Impossible: The Fans' Tale of Firefly & Serenity is available on DVD and CD soundtrack through DoneTheImpossible.com and Amazon.com. Done The Impossible has had the distinction of being an Official Selection at many film festivals around the world.

The DVD, hosted by Adam Baldwin with voice-over by Jewel Staite, features interviews with Joss Whedon, the cast, crew, and most important, the fans themselves. The story chronicles the rise, fall, and rebirth of the cult TV show "Firefly" as told from the perspective of the fans who helped save it.

The CD soundtrack features seven outstanding artists and crosses multiple genres including Celtic and filk: The Bedlam Bards, Brobdingnagian Bards, Dan Sehane, Emerald Rose, Michelle Dockrey, Rob Kuhlman, and Tony Fabris.

DONATION: Done the Impossible CD Soundtracks

Quantum Mechanix

Quantum Mechanix specializes in the design and manufacture of licensed high-quality replicas of vehicles, props, and other artifacts from television and motion pictures. The Official Serenity Blueprint Reference Pack, The Malcolm Reynolds Stunt Pistol and the Blue Sun Travel Posters are just some of the fine QMx products from the 'Verse, with many more to come!

Licensed franchises include Serenity, Battlestar Galactica, Stargate SG-1, Stargate Atlantis, Classics of Sci Fi, and Universal Monsters.

Sign up for the QMx Insider Newsletter and receive the latest updates, special offers and product exclusives.

DONATION: Serenity Bank Heist Money Packs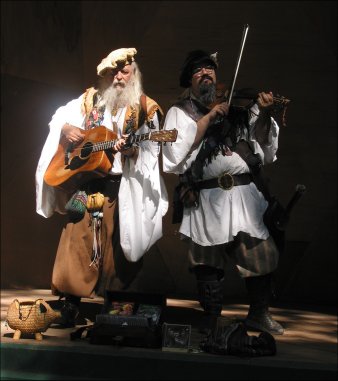 Bedlam Bards

On the Drift: Music Inspired by Firefly and Serenity is the Bedlam Bards' musical homage to the brilliance of film and television writer Joss Whedon. This collection of music was created to echo the shows' passion, beauty, and humor. As featured by The Signal podcast and the documentary Done the Impossible, this album is the perfect companion for Browncoats everywhere.

DONATION: Autographed 'On The Drift' CDs
The Joss Whedon Fan Club

The Joss Whedon Fan Club was founded by sister and brother, Kristin and Erich, in July of 2006. Armed with Erich's business degree and web programming skills and Kristin's determination and resources, the siblings established a parent company, Compressed Carbon Enterprises, LLC, and started the arduous process of getting the Fan Club off the ground.

Although the Fan Club is still in its infant stages, Kristin and Erich are proud of what they've accomplished so far, and have many exciting plans for the future. Kristin is learning to write HTML so she can participate in the website design and update process. She has also attempted to contact Mr. Whedon himself, in the hopes of earning his personal endorsement of the club. In addition, the team hopes to stage a Joss Whedon convention is 2009 or 2010.

DONATION: Special Fan Club Membership package
Dark Horse Comics

Founded in 1986 by Mike Richardson, behind the concept of establishing an ideal atmosphere for creative professionals, Dark Horse Comics has grown to become the third-largest comics publisher in the United States and is acclaimed internationally for the quality and diversity of its line. By attracting the top talent in the comics field, Dark Horse continues to change the shape of the industry and grow its brand throughout the world. In conjunction with its sister company Dark Horse Entertainment, Dark Horse has over 350 properties currently represented under the Dark Horse banner, serving as the jumping-off point for comics, books, films, television, electronic games, toys, and collectibles. In 2008, Dark Horse distributes its characters and concepts into more than fifty countries, continuing its mission of content creation and distribution in all of its forms throughout the world.



DONATION: Copies of Serenity: Better Days - at least 2 copies of Better Days #1, 1 copy of Better Days #2 and #3.
NBC Universal

NBC Universal is one of the world's leading media and entertainment companies in the development, production, and marketing of entertainment, news, and information to a global audience. Formed in May 2004 through the combining of NBC and Vivendi Universal Entertainment, NBC Universal owns and operates a valuable portfolio of news and entertainment networks, a premier motion picture company, significant television production operations, a leading television stations group, and world-renowned theme parks. NBC Universal is 80% owned by General Electric and 20% owned by Vivendi.

DONATION: DVDs of 'Serenity: Special Edition'
DragonWeave Jewelry

DragonWeave Jewelry is a home based company in Philadelphia, Pennsylvania, run by Nicole Bornak, with her sister Jillian's bead bracelet designs. Together they present this collection of unique and stylish silver jewelry in designs ranging from gothic and Celtic mythology, goddess, angel, and animal motifs, Japanese, Chinese, and ancient Egyptian symbols, and striking modern jewelry designs. And, of course, every silver dragon charm they can find.

They are always eager to hear your comments and suggestions, feel free to drop them a line and share your opinions and ideas. They will do their best to make DragonWeave Jewelry a rewarding experience for you!



DONATION: Serenity Pendants
ReadMyChest.com

Seen a design in my CafePress Shop you like... and would BUY if only... well, fear not, e-mail CPDesigns@ReadMyChest.Com with the exact information, include the url of the page you saw what you like on, then let me know what you'd prefer... on the shoulders across the back instead of on the front? on the pocket? ... or maybe you love this shirt, but would buy it if the back featured a second one of my designs... let me know and I'll see what I can do!

DONATION: Special Coupon for Custom Art
ALSO: We've heard there are a couple new sponsors for items including:
76th Battalion: Browncoat Essential Kit
(Browncoat Keychain, Browncoat Magnet, Independent Earrings, Independent Patch, and more!)
&


Wilco Models: Prop Replica Resin Grenade (Firefly)
"IT SURE WOULD BE NICE IF WE HAD SOME GRENADES, DON'T YA THINK"

In addition, Memphis has acquired the following items:
Custom Big Damn Hero & Blue Sun Shotglasses with a Browncoat Whiskey Flask
A Serenity Sterling Silver necklace
Serenity Earrings
Serenity Better Days #1 Cover with Cap'n Reynolds and original signature of Nathan Fillion (bought from auction to raise money for Kids Need to Read)
CSTS 2008 T-shirts
Serenity Movie Posters (from original release)
And more being added daily
** For every donation of $5.00 for those of you who believe in the cause but can't be present, we will throw in one door prize ticket you can use to be placed in any one door prize drawing jar. (Door prizes will be mailed to the winner - if they are not at the screening. Silent Auction items can only be bid on at the Memphis Screening event.